No space, no green, too many cars. Tokyo's hardly the place for hiking. Yet I made some interesting discoveries by taking improbable starting points and routes.
Tokyo is far more than the Yamanote line circle with its satellite cities (Shibuya, Shinjuku, Ueno etc) attached to it.
Endless suburbs sprawl beyond the inner circle forming communities on their own, whose inhabitants seldom come to downtown Tokyo. I got a brief impression of this on my first journey in 1995 by paying a visit to Shop33 in Kichijoji, about 8 stops from Shinjuku.
This time I've been more in the southwest of Tokyo, taking trains of the private Ikegami, Denentoshi and Odakyu lines.
Documented so far:
Along the Sumida to Asakusa
From Yoga to Soshigaya
Around Ikegami
Tamagawa
See map for overview of Tokyo 2001
See also Tokyo 2002 + Tokyo 2003 + Tokyo 2004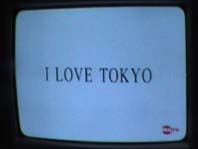 TV Screen from an ad promoting Tokyo among foreigners living there. Cool!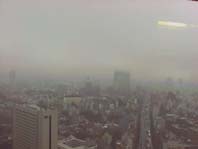 I arrived on 10-10-2001. It was raining cats and dogs. Here's a webcam view from my app. time of arrival, 12PM.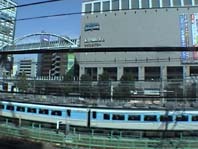 Toyko seen from the train. Here Chuo line approaching Shinjuku. Sometimes the view is obscured by a bypassing train.